Happy Healthy Holidays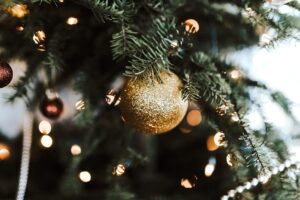 Hello again, it's me, Joseph and I'm on the move decking the halls and fa-la-la-ing like it's nobody's business! If you plan on making merry this holiday season here are a few quick ideas for appetizers and cocktails that are actually semi-healthy #notsonaughty  so you can sleigh this holiday season! #seewhatIdidthere
Cocktails
Pomsettia Cocktail Version
1.5 ounces vodka
2 ounces 100% pomegranate juice
3 ounces club soda
4 ice cubes
4 mint leaves
2 teaspoons pomegranate arils
Pomsettia Mocktail Version
2 ounces 100% pomegranate juice
4.5 ounces club soda (or sparkling water)
4 ice cubes
4 mint leaves
2 teaspoons pomegranate arils
Why we picked it:  we love the name | very few ingredients | alcohol and non-alcohol versions | it's pretty
Ginger Hot Toddy
(Recipe is per mug)
2

 

cups

 

apple cider- warmed

1

 

bag of tea

 

flavor of choice

1

 

tbsp

 

honey

1/8

 

tsp

 

ginger

1

 

slice

 

of lemon

1

 

cinnamon stick

1

 

shot Brandy

 

Whiskey, Rum of Bourbon **Optional
Why we like it:  It's hard to believe but apparently not everyone likes vodka #whoknew so here's an alternative | we love the built in immunity boosters of ginger and lemon |  Helpful hint:  go decaf tea at night time!
Appetizers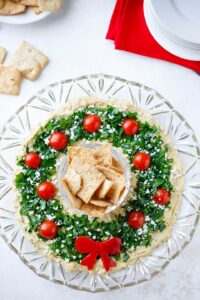 Hummus Wreath
Ingredients
1 (17-ounce) container of purchased plain hummus
1/2 cup reduced-fat, crumbled feta cheese
1/4 cup thinly sliced green onions (from about 2 onions)
3/4 cup chopped Italian flat-leaf parsley
1 teaspoon extra virgin olive oil
1/16 teaspoon kosher salt
cherry tomatoes, halved (I used 4 1/2 tomatoes for the wreath pictured in this post)
1 large red pepper, optional (look for one with broad, flat sides)
1 – 1 1/2 tablespoons very finely crumbled, reduced-fat feta cheese
optional dippers for serving: whole-grain pita chips, wedges of whole-wheat pita bread, or red and green veggies
Why we like it:  so easy to make and so festive!
Pear and Proscuitto Appetizer
Here's how they sold us:
"Easy to make – you don't need any special tools, gadgets, just a chopping board and knife.
Quick prep – 10 minutes is all you need to make them so if you are stuck for time or looking for last minute party snacks, this recipe is the one!
Little goes a long way – this pear prosciutto appetizer tastes best when the flavors are balanced. For this reason, you only use a little bit of everything, which makes it an affordable party food and if you have some leftover cheese or prosciutto, you can use them to make other appetizers" 
(get more instructions and other recipes)
And, let's not forget that there's a partridge in a pear tree so your appetizers are on point!
Desserts
Have your cake and eat it too!  Heavens to Betsy, the holidays only come once a year!  Yes, there are some healthy dessert recipes out there and good for you if you stay the course and work really hard to stay in shape over the holidays. ( BTW- if you do go out running, please do a couple of laps for me!) Dear reader- "everything in moderation including moderation", so if that sugar cookie calls your name- you know the one with just the right frosting to sprinkle ratio, have at it.  You'll figure out your figure later.
We've shown you a few quick ways to help you count your calories.  We hope you'll count your blessings even more! We are truly thankful for the gift of you!
Have a safe and beautiful holiday season with those that matter most!